[sowmedia_posttemplates_heading tag='h1′ link_apply=" link='manually,http://' link_target=" style=" size=" subheading_active=" subheading_size='15' margin=" margin_sync='true' padding='10' color=" custom_font=" av-medium-font-size-title=" av-small-font-size-title=" av-mini-font-size-title=" av-medium-font-size=" av-small-font-size=" av-mini-font-size=" custom_markup=" av_uid='av-k7q5dose' custom_class=" admin_preview_bg="][/sowmedia_posttemplates_heading]
A few weeks ago, Font Awesome launched a series of icons to increase "corona awareness". The "solid" or filled symbols are free to download. The regular, non-colored or two-tone colored icons must be paid for.
The aim of the series is to provide websites and apps with a means to raise awareness about the global pandemic. In the last updated version, 47 new symbols have been added that depict hygienic activities such as hand washing. Other icons indicate viruses and social distance storage. There are even a few pictures of toilet paper (because these are apparently necessary in this world where panic buying is a new concept).
"Based on recommendations from the World Health Organization, you will find symbols that communicate good hygiene and social distance keeping," wrote Jory Raphael, head of icon design at Font Awesome. "We can't be on the front lines and act like the brave medical professionals around the world do, so we hope these icons help communicate some of the most important things people can do to protect themselves and their communities."

The symbols were originally requested a few weeks ago at Font Awesome's Github repository. The design team acted diligently to make them available. There are additional requests for liquid and solid soap.
Like all Font Awesome symbols, the series is available as part of a package or individually downloadable in SVG format. Below you can see the current available icons: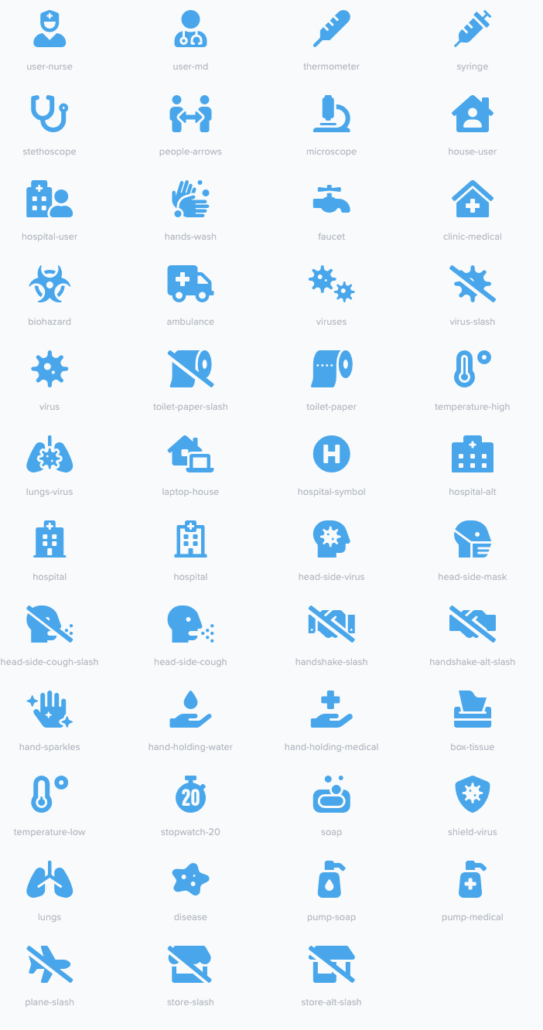 Users of Font Awesome's WordPress plugin should have unrestricted access to the string. The plugin uses the external Font Awesome CDN or kits from the latter. Users can also choose from various icon libraries (which also include the corona symbols). On our website you can also find information about other free plugins for WordPress.
https://www.wpupgrader.com/wp-content/uploads/2020/04/covid-iconen-featured.jpg
423
1210
sowmedia
https://www.wpupgrader.com/wp-content/uploads/2020/03/logo_pink-1_resized.png
sowmedia
2020-04-22 15:00:35
2020-04-30 16:59:34
Font Awesome launches font for "corona awareness"